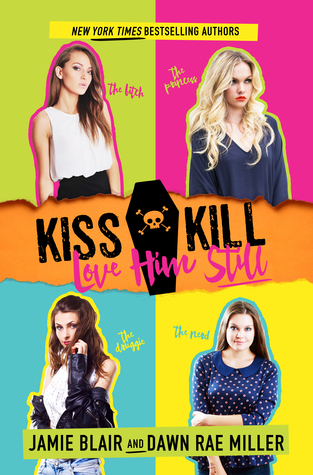 Kiss Kill Love Him Still by Jamie Blair and Dawn Rae Mille
Jackson Landis kept secrets. It's how he got girls into bed, the grades he wanted, and a reputation for being the life of the party.
But now he's dead, and no one knows how or why. Especially not the four girls whose secrets he protected. Secrets so scandalous they could cause each girl to lose something valuable. Secrets so dark, someone may have killed for them.
The four girls – a campus drug dealer, an overweight bookworm, a closeted lesbian, and a spoiled princess have one thing in common – they're terrified the things Jackson knew may not have died with him. As Reggie, Haddie, Val, and Livie try to piece together her own role in Jackson's death, each girl realizes Jackson had some not-so-pretty skeletons of his own.
Which makes a girl wonder, who really wanted Jackson Landis dead?
Jackson Landis guardaba secretos. Así es como consiguió llevar a chicas a la cama, las notas que quería, y la reputación de ser el alma de la fiesta.
Pero ahora él está muerto, y nadie sabe cómo ni por qué. Especialmente las cuatro chicas cuyos secretos protegió. Secretos tan escandalosos que podrían hacer que cada chica perdiese algo valioso. Secretos tan oscuros, que alguien pudo haber matado por ellos.
Las cuatro chicas –una traficante de drogas del campus, un ratón de biblioteca con sobrepeso, una lesbiana que aún no salió del armario, y una princesa mimada tienen una cosa en común– están aterrorizadas de que las cosas que Jackson sabía puede que no hayan muerto con él. Mientras Reggie, Haddie, Val y Livie tratan de reconstruir su propio papel en la muerte de Jackson, cada chica se da cuenta de que Jackson tenía sus propios no-tan-bonitos secretos.
Lo que hace que una chica se pregunte, ¿quién quería realmente a Jackson Landis muerto?
Suspect Profile: Haddie Eubanks
Height: 5'5"
Weight: 160 lbs
Hair: Long, light brown
Eyes: Light brown
Demeanor: Polite, eager to please
Motivation for killing Jackson Landis: She wrote his term paper in exchange for sex.
Officer
McMichaels
: Thank you for coming in today, Miss Eubanks.
Haddie
: I'd do anything to help find the person who took Jackson's life.
McMichaels
: What was your relationship with Jackson Landis?
Haddie
: We were friends. I work in the library and helped him write a paper.
McMichaels
: Nothing more? Did you harbor any deeper feelings for him?
Haddie
: I'd be lying if I said Jackson wasn't charming and very good-looking. Most any girl on campus would tell you that.
McMichaels
: But you never acted on your attraction?
Haddie
: No.
McMichaels
: That ring you're twisting on your finger, is that a purity ring?
Haddie
: Yes. I promised my father I'd stay a virgin until marriage.
McMichaels
: And if you don't?
Haddie
: I don't get my trust fund when I graduate.
McMichaels
: Is your father a controlling man, Haddie?
Haddie
: He means well. He just wants the best for me.
McMichaels
: Are you afraid of your dad?
Haddie
: I have no reason to be afraid of him.
McMichaels
: If you broke your promise of purity, what would he do?
Haddie
: I told you—
McMichaels
: What would he do to the guy you slept with?
Haddie
: What are you saying?
McMichaels
: I'm saying, thanks for coming in. You've given me a lot to follow up on.
Jamie Blair
Young adult author of the Kirkus-starred novel Leap Of Faith (Simon & Schuster 2013), and Lost To Me (2014), featured in the New York Times and USA Today bestselling anthology, Dirty Boys of Summer. Represented by Rebecca Friedman of RF Literary.
Autora de libros juveniles (Young adult) y de la novela protagonizada por Kirkus Leap Of Faith (Simon & Schuster 2013), y Lost To Me (2014), destacado en el New Yotk Times y en la antología bestselling de USA Today, Dirty Boys of Summer. Representada por Rebecca Friedman de RF Literary
Dawn Rae Miller
Dawn is a Twitter and fashion addict whose favorite things in life are her family, gorgeous dresses, tea leaf salad, and French macarons. She splits her time between San Francisco and Northern Virginia, and is always up for a trip to Paris.
Drawn es adicta a Twitter y a la moda cuya cosas favoritas en la vida son su familia, los vestidos maravillosos, ensalada de hoja de té, y los macarons franceses. Ella divide su tiempo entre San Francisco y Northern Virginia, y siempre está lita para un viaje a París.