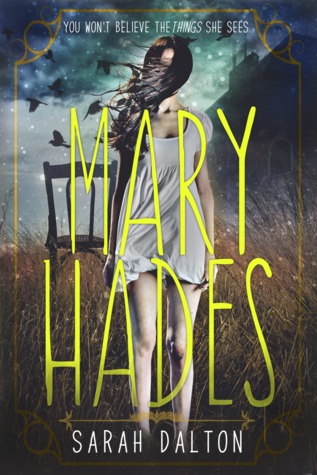 Mary Hades (Mary Hades #1) by Sarah Dalton
Publication date: June 2014
Not many seventeen year old girls have a best friend who's a ghost, but then Mary Hades isn't your average teenager.
Scarred physically and mentally from a fire, her parents decide a holiday to an idyllic village in North Yorkshire will help her recover. Nestled in the middle of five moors, Mary expects to have a boring week stuck in a caravan with her parents. Little does she know, evil lurks in the campsite…
Seth Lockwood—a local fairground worker with a dark secret—might be the key to uncovering the murky history that has blighted Nettleby. But Mary is drawn to him in a way that has her questioning her judgement.
Helped by her dead best friend and a quirky gay Goth couple, Mary must stop the unusual deaths occurring in Nettleby. But can she prevent her heart from being broken?
The first in a series of dark YA novels, Mary Hades follows on from the bestselling Kindle Single My Daylight Monsters. A spine-tingling tale with romance, readers will be shocked and entertained in equal measure.
No muchas chicas diecisiete años de edad tienen un mejor amigo que es un fantasma, pero entonces María Hades no es la hija adolescente promedio.
Con cicatrices físicas y mentales por un fuego, sus padres deciden que pasar unas vacaciones en un idílico pueblo en el norte de Yorkshire le ayudará a recuperarse. Apretada en medio de cinco páramos, María espera tener una semana aburrida atrapada en una caravana con sus padres. Poco sabe ella, el mal se esconde en el camping...
Seth Lockwood —un trabajador del parque de atracciones local con un oscuro secreto— podría ser la clave para descubrir la historia turbia que ha asolado Nettleby. Pero María lo dibuja de una manera en la que ella se cuestiona su juicio.
Con la ayuda de su mejor amigo muerto y una peculiar pareja gótica gay, María debe detener las muertes inusuales que ocurren en Nettleby. Pero, ¿puede evitar que su corazón se rompa?
La primera de una serie de novelas oscuras YA, Mary Hades sigue en los bestsellers de la exitosa Kindle Single My Daylight Monsters. Una historia escalofriante con romance, los lectores se sorprenderán y entretendan a partes iguales.
Sarah grew up in the middle of nowhere in the countryside of Derbyshire and as a result has an over-active imagination. She has been an avid reader for most of her life, taking inspiration from the stories she read as a child, and the novels she devoured as an adult.
Sarah mainly writes speculative fiction for a Young Adult audience and has had pieces of short fiction published in the Medulla Literary Review, PANK magazine and the British Fantasy Society publication Dark Horizons. Her short story 'Vampires Wear Chanel' is featured in the Wyvern Publication Fangtales.
Sarah's debut novel The Blemished is a fast paced young adult dystopia set in a fractured Britain. It follows the events of Mina Hart, a young Blemished girl who has a dangerous secret, as she tries to escape the dreaded Operation and get out of Area 14.
Sarah creció en medio de la nada en el campo de Derbyshire y como resultado tiene una imaginación demasiado activa. Ella ha sido una ávida lectora la mayor parte de su vida, tomando la inspiración de las historias que leía cuando era niña, y de las novelas que devoraba como un adulto.
Sarah escribe ficción especulativa principalmente para un público juvenil y ha tenido relatos cortos de ficción publicados en la Medulla Literary Review, la revista PANK y la British Fantasy Society publication Dark Horizons. Su cuento 'Vampires Wear Chane' aparece en Wyvern Publication Fangtales.
La primera novela de Sarah, The Blemished es una distopía juvenil de ritmo rápido ambientada en una Gran Bretaña rota. En ella se siguen los acontecimientos de Mina Hart, una joven chica Blemished que tiene un secreto peligroso, ya que ella trata de escapar de la temida Operación y salir del Area 14.
Excerpt "Mary Hades"
The whiskey, and Seth's company, has elicited whatever happy hormones needed to help me slip into a state of relaxation. I lean back in my seat and tilt my head to the sky. On any other night I hate to look up at the stars. I hate to be reminded that we're in this huge universe that we don't understand, and we're a speck of insignificance on a great big piece of rock circling around a ginormous lump of fire. Tonight, I could get lost in space. I could stare up at the moon all night.
"Shooting star?" Seth asks.
"No, an aeroplane," I reply.
"Somewhere you want to go?" he asks.
I turn my eyes back to him. We hold gaze. "No."
No smiles. No impish grin. Instead—his eyes on mine. His eyes coming closer, until I feel as though his eyelashes might graze my cheek. His lips near mine. The scent of musk, whiskey and smoke. Sweet. Sweet scent. Him.
Jolt.
Groan.
The wheel stops. We break apart and laugh.
"Looks like Damo's giving us a little sightseeing time," Seth says. He pushes his fingers into his lush hair. There's a ring on his right hand. The silver of it catches one of the flashing lights, so that it turns green, and then yellow. "You haven't told me why you're here? You local?"
"I'm on holiday," I say.
He raises an eyebrow. "And you came to Nettleby?"
What I don't tell him is that I'm with my parents. That would be even more embarrassing.
"Are you local?" I ask.
"Yeah," he says with a sigh.
"Maybe you could show me around?" Mary, what on Earth are you doing?
He grins. "Sure.
He moves a little closer and wraps his arm around my shoulder, pausing not once but twice, as though almost changing his mind. There's a slight flush of pink on his cheeks. It could be nerves, or it could be the whiskey. Lacey would be proud of me. For the first time ever, I'm on a normal date with a great guy, and it's going well. There aren't any Things, or ghosts, or people with psychiatric issues. There is me and Seth—alone.
Warm, fuzzy feelings spread through my arms as I lean into him. We stay silent for a while, watching the lights from the campsite. Beyond the fairground I know there's a forest, but it's now a black fade in the night. The fairground is dark, with the occasional torch light and one or two flood lights to help the men as they lock up for the night.
"Damo's taking his time," Seth says. His eyes narrow with concern.
"Something the matter?" I ask. We do seem to have been still for a while.
"I dunno," Seth says. He turns in his seat so that he's leaning over the ledge, and pulls his arm out from under me. Cupping his hands around his mouth he yells, "Damo! Hey, Damo. What's going on, mate? You gonna get this thing started or what?"
A chill runs through me. Am I such bad company? Does he want to get rid of me? To get this date over and done with?
"Sorry," he says, turning back to me. "I get a little nervous with these rides. When you know how they work, you know how much can go wrong."
"Oh, okay." I think back to his safety conscious worrying over the safety bar. Wow, a carnie who cares about welfare, that's a first.
I glance at my watch. 11:30pm, time flies. I should try to get home before midnight so that the 'rents don't have simultaneous coronaries. When I realise that this is going to end soon, heavy weights pull at my stomach. I like being with Seth.
The wheel lurches forward with a groan.
"There, it's—" My blood runs cold. The Ferris wheel jerks forward, no longer running smoothly like it did on the way up, but worse than that, worse than the possible failure of the ride, I see a dark shadow, and then I see it.
"No," I mutter without meaning to.
"What's wrong?" Seth says.
I shake my head. This can't be happening now, not on the first date that has made me feel normal.
It crawls up the ride.
Bony fingers cling to the metal framework.
An x-ray of bones shine through its skin. I lean forward and grip the safety bar with my fingers, gripping so hard that the whites of my knuckles protrude through my skin, like the bones of the Thing climbing up to me.
"What do you want?" I whisper.
"What did you say?" Seth asks.
"Nothing," I reply.
"Are you all right? You look a little pale? It's the ride, isn't it? Don't worry, it gets a bit stiff sometimes, when it's been inactive for a few minutes. Did I frighten you with what I said? Honestly, it's fine. Damo knows how to—"
Screeeeeech.
The ride stops so abruptly that I'm thrust forward against the safety bar. My head snaps forward, painfully. One of the bears slips from my grasp and hurtles down towards the black ground below.
"Shit." Seth grabs hold of my shoulders and pulls me back against the seat. "That's never happened before. Are you all right?"
The Thing is gone. It has passed on the warning, showing me its hideous face. Now I have to wait for whatever horrible event is about to happen.
Are we going to die?
The Ferris wheel bench rocks back and forth, suspended halfway down the 80 foot full height of the wheel, as boasted on the sign by the ticket booth. Seth holds me tight, his anxious face turned down towards the control booth below.
"Damo?" he shouts. "Damo, what's happening down there, pal?"
There's the scrape of a door opening and a small voice calls up. "Summats up, mate. The controls have gone funny. I keep trying to get you down, but then it… it's like it has a life of its bloody own."
Seth rubs his chin. The wheel lurches forward again, this time making me cry out and grip onto Seth's arm tighter.
"I've got you," he murmurs. "It's gonna be all right."
I shake my head. No it isn't. When the Things show up, it's because someone is going to get hurt. It's not usually me, it's someone else. Death follows me.
"This is my fault," I whisper.
"What?" he says.
"Bad things happen… you… you should get away from me."
Our seat rocks forward, forcing us both up against the safety bar. "This isn't your fault—"
The bench drops an inch to the left, but my heart drops to my knees. We slide together, hitting the edge. In a moment of utter panic I realise that the chain has come loose at the top. There's a good chance it will break altogether and we'll fall…